Darrell Cannon and the Victims of Officer Jon Burge and the Chicago Police
by Isaac Bryant, JR364 — History of the Alternative Press, May 8, 2015
Between 1972 and 1991 the Chicago Police Department under the leadership of Detective Jon Burge allegedly detained and tortured over 100 African American men. Darrell Cannon was one of them. He is a black man from the South Side ghetto who was falsely arrested and tortured. Under these circumstances, he made a false confession that led to his imprisonment for 24 years. He was eventually exonerated for the crime and joined a class-action lawsuit against the Chicago Police Department. The suit charges Det. Burge and others in the CPD with using  torture against innocent men to extract confessions for crimes they did not commit. To this day the police officers involved in the practice walk the streets free and the CPD continues to defend them. This is the story of one imperfect man who ran afoul of the city's police force.
November, 1983 – South Side Chicago
Darrell Cannon was in his apartment in the city's south side on the cold morning of November 2, 1983. The "General" of the neighborhood's El Rukn street gang, Cannon was out of jail on parole from a murder charge that he had been convicted of 13 years earlier. He was now 32 year-old with a wife, Carla, and seven year-old step son, Russell.  He awoke that morning to the dim glow of dawn trickling in through the window of his South Side apartment.
Cannon had not led a perfect life, he was involved in the drug trade and gang violence. The street life that many of Chicago's black youth knew only too well. Just a few days prior a notorious drug dealer in the neighborhood had been found dead by police. No witnesses, no investigation, no suspects — not until that morning.
As the sun rose over the horizon a dozen Chicago detectives in plain clothes burst into the apartment of Cannon. His wife screamed in fear as the all white police unit tore through the home. One detective grabbed Cannon and threw him to the floor. Russell wandered out of his bedroom only to be shielded from the action by Carla.
"Nigger, if the boy and the girl weren't here, I'd blow your motherfucking head off and put a gun in your hand," Detective Peter Dignan allegedly said as he put handcuffs on Cannon. He was taken by three officers to a waiting car and placed into the back.
This began a long ride to an abandoned area in the southeast side of the city. The long ride ended at the former Wisconsin Steel Mill. Darrell knew the place. He had worked there as a teenager in the 1960s.
The sun had risen just above the horizon now, blanketing the area in golden autumn light. Where a once-busy and thriving business once stood, a rusting metallic wasteland was all that was left. Not one person walked the grounds, and no one would ever come to check on the now crumbling warehouse. No one except for Cannon and the detectives.
Darrell Cannon – the man
Darrell Cannon was born in 1951 to William and Earline Cannon. The youngest of four children he was seen as the baby of his family. His father was a doorman for a downtown hotel and his mother, once a nurse, was now managing currency exchanges and hotels. Darrell grew up in a strict household, but one that provided him and his brothers and sisters every opportunity to succeed. His parents prided themselves on the fact that their children never went to sleep hungry, no matter how hard they had to work in order to provide for them.
However, despite the strong upbringing, Darrell fell into the traps that many south side Chicago youth encounter. When he was a teenager he began associating with a local gang. The crumbling schools, businesses, and infrastructure of the south side – often overlooked by the city of Chicago – drove many of the neighborhood's youth to the gang life. It offered brotherhood, excitement, family, and power. Things that the ghetto he was raised in could not offer him.
In 1966, 15 year-old Darrell was sentenced to two years in a juvenile prison for attempted murder. When he was released, he was a changed man, as was the world around him. The country was reeling from the death of Martin Luther King, Jr. and black ghettos across the nation were united in uprising against the unjust laws of the white majority. After meeting prominent Chicago Black Panther Chairman Fred Hampton, Darrell was moved to pursue the fight for civil rights by any means necessary.
He remembers this time in his life as a golden period. He was a political activist and self-proclaimed "Jesse James of the South Side." That outlaw attitude would come back to bite him in 1970 when he was only 19 years old.
During an argument with the organizer of a gambling ring, Darrell and the organizer pulled guns on each other, and Darrell shot and killed the man in the back room of a toy store. He was sentenced to 200 years in prison for murder. It was then that Darrell's "Jesse James" attitude changed.
Facing the prospect of life imprisonment, he used the time to educate himself on the social movements of the civil rights era and throughout history. He went from a man trying to break the rules, to a man trying to change them.
In 1983 Cannon sued the prison for not considering his parole. He won the case, and was released after 13 years behind bars. After his release he vowed to try and turn his life around. He devoted himself to his family and the well-being of black youth in the South Side community.
"I would periodically sit on the bench that we had out in front of our apartment building, look up at the sun and remember all those times that I did that when I was in prions, in the yard… I would reminisce about those times and then look at myself now as a free man," said Cannon.
His time as a free man would be short lived however. Less than a year after he was released from prison, he would feel the cold metal of handcuffs once again snap around his wrists.
November 1983 – Southeast Chicago
Detectives dragged Darrell from the car and shoved to the ground. Detective Dignan pulled out a double-barrel shotgun and stuck the barrel into his mouth. Dignan asked Darrel what he knew about the dead drug dealer. Darrel denied any knowledge of any murder.  Dignan pulled the trigger. Click. No blast.
"It felt like the back of my head had been blown off," said Cannon. Dignan then pulled a shotgun shell out of his pocket, to the amusement of all three police officers. "Ok now blow that nigger's head off," said officer Charles Grunhard. Dignan repeated the trick of Russian Roulette three more times. All three times Darrell refused to confess to a murder he had not committed.
The officers pulled Darrell back into the cruiser and pulled his pants off. They held a gun to his head while Det. John Byrne burned Darrell's testicles with a cattle prod and continued the treatment despite his screams for mercy.
"I screamed until I was hoarse," he said. "I had been beaten by the police before. Typewriter cover, phone book, the whole works – but I had never in my life experienced what they did. It seemed like I wasn't going to ever leave that place. I'm sure I couldn't have been there no more than 35 to 40 minutes, but it seemed like I had been there a lifetime being tortured. My internal system was burning, and I got to the point finally where I said, 'okay, man, look, I tell you anything you want to know, just stop this here. Just stop this," said Darrell.
"It got to the point where I would've told them my mother committed a crime if they wanted me to," he said.
The detective outfit, nicknamed "The Midnight Unit," continued to apply torture until Cannon confessed to being an accessory to murder. All of this was a carefully orchestrated scheme to gain convictions from the poorest and most preyed upon member of Chicago society. Cannon would be just one of hundreds of black men that would be subjected to this form of torture.
Cannon's trial took place in 1984, and the judicial system continued to show that it was stacked against him. The Court excused 12 of the 17 potential black jurors on flimsy grounds. The judge was suspected corrupt practices including accepting bribes. Each police officer that testified lied under oath and stated that they had no knowledge of Cannon being tortured. Cannon was sentenced to life in prison for a murder that he did not commit.
Det. Jon Burge — the man accused of committing torture
The man allegedly behind this program of abuse was named Jon Burge, a lieutenant in the Chicago PD. Hired in the early 1970's, Burge became a Chicago Police Detective in 1972. He joined the force after serving in he army where he was a investigator during the war in Vietnam. Between 1972 and 1980, Burge was seen as a run-of-the-mill police officer in the Chicago PD. However, in 1981 the trail of torture story allegations began.
Burge was put in charge of a group of officers nicknamed "The Midnight Unit," a unit that would soon become infamous for the brutal torture practices. This included suffocating people with plastic bags and beating them, among others. One officer testified that Burge had a "scientific way of questioning niggers." Cannon stated that the officers knew exactly how to break the human spirit and the human body.
Between 1982 and 1994 Burge inflicting torture on over 100 black men in Chicago. One of them was Anthony Holmes:
"Burge put some handcuffs on my ankles, then he took one wire and put it on my ankles, he took the other wire and put it behind my back, on the handcuffs behind my back. Then after that, he went and got a plastic bag, put it over my head… so I bit through it. So he went and got another bag and put it on my head and he twisted it. When he twisted it, it cut my air off and I started shaking. So then he hit me with the voltage. When he hit me with the voltage, that's when I started gritting, crying, hollering… it feels like a thousand needles going through my body. And then after that, it just feels like, you know, it feels like something just burning me from the inside, and, um, I shook, I gritted, I hollered, then I passed out," Holmes said.
Burge would go on torturing innocent poor men and putting them away for crimes that they did not commit. It would not be until the early 1990s the truth about Burge's regime would be uncovered.
1986: Prison Time — The Menard Correctional Center
In Menard Prison, Darrell was constantly under attack from the guards, the warden, and other prisoners. They were kept in line by a group of guards nicknamed "Orange Crush."
"The Orange Crush consists of all white southern hillbillies. Half of them are KKK. The other half belong to the Nazi party or one of them old racist groups there… they love to come in on you to hurt you," said Cannon.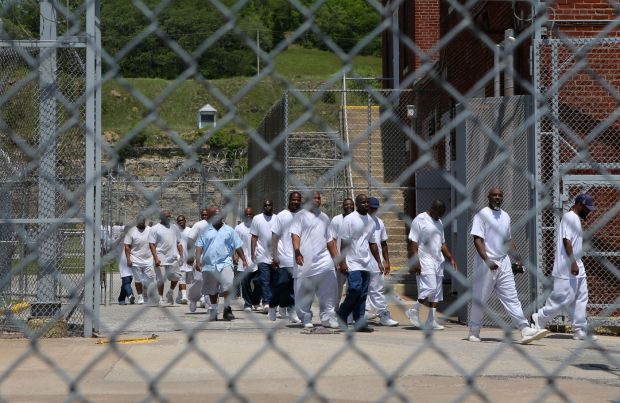 He was subjected to solitary confinement for a 30-day stint in a cell without windows. "When you first go behind that steel door within 48 hours you begin to feel like you're suffocating, you're trying to gasp for air… In the summertime, if the temperature outside is 85 degrees, then the temperature in that cell gonna be every bit of 100. There's no ventilation. You're hemmed in and you're not getting air. It's so hot in that cell that just laying in the bed in your shorts you would still sweat as if somebody done poured water on you," said Cannon.
The cell had one light that would stay on 24 hours a day, and the only water they would receive would be two glasses of ice water at noon each day. "It's torture," said Darrell "make no mistake about that."
During his time in prison Darrell handwrote a note to his attorney stating that he had been tortured by Chicago police. He detailed the events of that day in 1982. This was the first time that a victim of the Jon Burge regime would speak out. Little did Cannon know that others were also finding the courage to tell about the horrors they had endured.
The fight against Burge, the fight for Cannon's freedom
An investigation conducted by the Chicago Police Department's Office of Professional Standards concluded that Jon Burge and his detectives engaged in methodical and systematic torture. The study stated, "The type of abuse described was not limited to the usual beating, but went into such esoteric areas as psychological techniques and planned torture."
On January 28, 1991 Amnesty International joined the fight for an investigation into the torture. This push along with the group Concerned Citizens of Chicago pushed for an international investigation. Between 1991 and 1993 three separate lawsuits were filed against the Chicago police. The testimony of Darrell Cannon, Anthony Holmes and 23 other victims played a role in shedding light on the abusive practices.
Darrell Cannon would have his day in court again. This time the issue of torture was raised in his defense. After protracted evidence that focused on the practice of the police torture, the State of Illinois dismissed his case. He was released from prison in 2007. After 24 straight years behind bars, he  was once again a free man.
With his freedom in hand he now had the opportunity to go at Burge full-force. However the statute of limitations on Cannon, and other cases against Burge had since ran out. The case against him was overwhelming, but the court's hands were tied, and it was too late to pursue criminal charges.
However in 2008, Burge was arrested on federal civil violations. U.S. Attorney Patrick J. Fitzgerald charged him with lying under oath in a civil case. Fitzgerald said, "If Al Capone went down for taxes, it's better than him going down for nothing." Burge would not face responsibility for the torture cases but he would do time for civil crimes. He was charged with one count of perjury and two counts of obstruction of justice, and sentenced to five years in prison.
The Chicago police officers who had also participated in the torture would not be charged or tried.
"Justice" for Darrell Cannon, freedom for Jon Burge
In May 2015 the Cannon and other victims of Chicago police torture would be awarded reparations for the injustice. Mayor Emanuel approve a $5.5 million settlement with the 100 men subjected to police abuse. While that may seem like a lot of money, each victim with a credible case may only receive up to $100,000.
Along with the cash settlement, the City of Chicago has formally apologized to the victims and will create a memorial to their suffering. Additionally, Chicago Public Schools will be required to teach students about the sad era in police – minority relations.  Amnesty International, who had fought for decades for reparations stated, "Chicago has taken a historic step to show the country and the world that there should be no expiration date on reparations for crimes as heinous as torture."
Works Cited
Berlatsky, Noah. "When Chicago Tortured." The Atlantic. Atlantic Media Company, 17 Dec. 2014. Web. 08 May 2015.
Bierma, Paige. "Torture Behind Bars." CBS Interactive. CBS Interactive Business Network, July 1994. Web. 08 May 2015.
"Chicago Torture Justice Memorials." Chicago Torture Justice Memorials. Chicago Torture Justice Memorials, n.d. Web. 08 May 2015.
Conroy, John. "Tools of Torture." Chicago Reader. Chicago Reader, 3 Feb. 2005. Web. 08 May 2015.
Goldberger, Ben. "Jon Burge Arrested In Torture Cases." The Huffington Post. TheHuffingtonPost.com, 21 Nov. 2008. Web. 08 May 2015.
"RW ONLINE:Surviving Police Torture: The Story of Darrell Cannon." RW ONLINE:Surviving Police Torture: The Story of Darrell Cannon. Revolutionary Worker Online, 23 May 1999. Web. 08 May 2015.
Saulny, Susan, and Eric Ferkenhoff. "Ex-Officer Linked to Brutality Is Arrested." The New York Times. The New York Times, 21 Oct. 2008. Web. 08 May 2015.
Schaper, David. "Chicago Creates Reparations Fund For Victims Of Police Torture." NPR. NPR, 06 May 2015. Web. 08 May 2015.
"Survivor Darrell Cannon Says 'Never Again' to Chicago Torture." YouTube. Amnesty International, 26 June 2014. Web. 08 May 2015.
Taylor, G. Flint. "Federal Appeals Court Rejects Torture Survivor's Case." – In These Times. In These Times, 26 June 2014. Web. 08 May 2015.
Taylor, G. Flint. "The Torture of Darrell Cannon: A Case That the City of Chicago Cannot Win." The Huffington Post. TheHuffingtonPost.com, 10 Sept. 2012. Web. 08 May 2015.
Photos Cited
Green, Spencer M. Stanley Wrice. Digital image. Huffington Post. AP Images, 7 May 2015. Web. 8 May 2015.
Gregory Banks. Digital image. Chicago Tribune. Chicago Tribune, 2013. Web. 8 May 2015.
Jon Burge. Digital image. Huffington Post. Huffington Post, Oct. 204. Web. 8 May 2015.
Olson, Scott. Darrell Cannon. Digital image. The Takeaway. Getty, 24 May 2010. Web. 8 May 2015.
Wisconsin Steel Mill (aerial shot). http://orion.neiu.edu/~reseller/aerial.jpg
Photo of El Train Tracks. https://www.flickr.com/photos/genial23/3042265184
Menard Correctional Center. http://www.stltoday.com/gallery/news/multimedia/life-behind-bars-at-menard-correctional-center/collection_d6d6565a-735f-5630-943f-896dd72c50f6.html#0